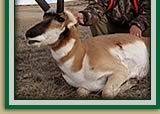 P.O. Box 182
Jordan MT 59337
1-877-622-7428


Testimonials from Landwehr Outfitters recent clients.
Jim & Brett
I really want to thank you guys again for my first antelope hunt.
What a great time! I also thought last year's mule deer hunt was the best.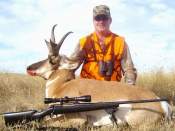 I have never felt more comfortable on a guided hunt. My guide, Brett, was incredible. Living in Arizona, it's very hard to draw an antelope tag, so it was nice to be able to hunt Montana bucks for my first hunt. The hardest part of this hunt was turning down quality bucks on the first couple of days. Not to mention Brett threatening to lock my rifle in the truck if I didn't settle down (Hunter's Time-Out, I guess, ha ha). He kept reassuring me that we would see bigger ones and, of course, the last day I got my antelope.
A special thanks to Doni for the great meals & all the hard work she does!
Thanks again.
I'll see you guys next year!
Mike Stewart
Scottsdale, AZ
---
December 15, 2008
Dear Jim and Brett,
Just a quick note to say thanks for another great year of hunting.
I can't believe this was my 5th year hunting with you guys already. After 25 years of tree stand hunting in Minnesota and Wisconsin, I am definitely hooked on "Montana Style Hunting." From the rush of that antelope coming into the decoy at full speed to the long stalk of the trophy mule deer, there is no bigger thrill!
Having hunted with all of your guides now, I can safely say I have never met a more dedicated group of guys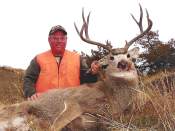 determined to get you the best shot at a quality animal. I sometimes wonder who is having more fun, me or the guide.
One of the aspects of your operation I like the most is the instant camaraderie you feel the minute you arrive. Everyone is made to feel welcome. The accommodations are very comfortable and the food is out of this world. Evenings spent back at camp sharing stories of the day's hunt is something I will cherish for many years to come.
I will be back next fall for my seventh hunt with you to try my hand at archery elk. It can't come soon enough.
Please say hi to all the guys, and thanks again for all you do to make every hunt such a great experience for every hunter.
Dave Feyereisen
Minneapolis, MN
---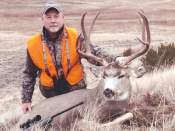 Nov 10, 2008
Thanks again for another great hunt. My buddy, Chris Koller, and I passed up several nice mule deer bucks on the first day and we still came home with two nice bucks on the last day. I can't say enough about Landwehr Outfitters. The accommodations and food were great and we really enjoyed hunting by boat. The highlight of this year's hunt was getting the nice bull elk with my bow. I can't wait till next year to go again!
Brian Liebold
---
Dec 3rd, 2008
I have hunted the last three years with Landwehr Outfitters. I have the highest respect for Jim Landwehr. Not only does he have the ability to organize and coordinate a very exciting hunting experience but he also treats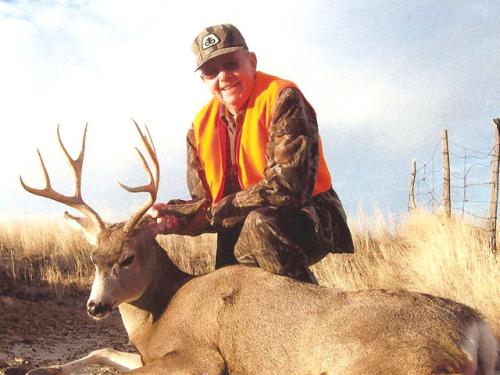 everyone with respect. The facilities are more than adequate and the food prepared by his wife is AAA. In my opinion, all of the guides are the very best. I have hunted other places in Montana and Mississippi and when I take everything into consideration, Landwehr Outfitters are the best.
The guides are very familiar with all the areas that are hunted. They can spot the game and it is entirely up to you whether the animal is acceptable to your standards. I have never had any pressure to shoot something less than what I wanted. All of the guides, Jim, Brett, Rich, Steve and Chris, are great guys to be around even if you never hunted a day.
You would be hard pressed to find a better outfitter or a better overall hunting experience.
John W. Tennant
Harrisville, MI
---
May 19 2003
Since 1998, I have had the privilege of hunting a number of times in Montana with Landwehr Outfitters. Whether I was hunting with Jim, Brett or one of their experienced guides, their display of guiding skills was outstanding. I have been on a total of seven hunts with them to date and plan on more in the future. I have hunted mule deer, antelope and elk with Landwehr Outfitters and each of these hunts was an incredible and enjoyable experience.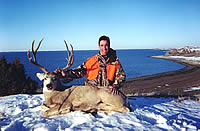 During 2002, I had the pleasure of being one of a party of eight hunters to hunt with the Landwehrs. We tagged out in four days with a total of eight deer tags and 5 antelope tags. The Landwehrs' covered boats play a major role in hunting the areas surrounding Fort Peck Reservoir. They give someone who might not be able to hike long distances an opportunity to reach remote areas. In addition, they give the physically fit an opportunity to hunt even harder.
Since 1997, I have been on many guided hunts and to sum it all up, Landwehr Outfitters are at the top of the heap. The game in the area is plentiful. The accommodations are comfortable and the guiding is great. I cannot recommend a more enjoyable experience.
Anthony Caruso
Center Valley, Pennsylvania
---
May 26, 2003
Dear Jim,
Thanks once again for the excellent mule deer hunt. I am still conveying to my friends and colleagues memories from the successful hunt that I experienced with you and your staff. The first day alone I saw 15 mule deer bucks while hunting with your staff. On the second day I harvested my trophy mule deer, but the experience didn't end. I was able to accompany my partner and friend while he hunted and eventually harvested his trophy mule deer. We also traveled in and around the area and observed the beautiful region of eastern Montana.
You and your staff not only provide excellent opportunities for reaping various mule deer, but great accommodations, great meals, and most of all, great memories. At least once a week a memory from hunting with your staff is mentioned during a conversation.
I will be returning this fall to once again experience another hunt with you and your staff. I have also applied for an antelope license, and if I draw a license, I will have the opportunity to take two trophies. If I do not acquire an antelope license this year. I believe that the newly enacted legislation concerning "bonus points" will ensure me an opportunity to draw a license in the next few years.
I have had the opportunity to hunt in Alaska, British Columbia, New Mexico, Wyoming and other locations throughout the United States, but hunting with you and your staff in Montana rates right up there at the top of my list. Looking forward to seeing you in the fall.
Kevin Rudy
---
May 12, 2003
Hi, Jim and Doni,
Thanks for sending me the application for our bow and arrow elk hunt this fall. I did draw the general license and applied for the secondary special area permit as you suggested. Let me know the dates that are available and we will finalize the plans.
Now that the business is taken care of, I want to again express my thanks for all the wonderful times the two of you have shown me over the years. I know it is hard to please grumpy old men. The C. M. Russell Wildlife Refuge has been good to us over the years. I can still remember back in the mid-eighties when you guided my dad, brother and me several times. These are great memories. We took some trophy mule deer back then and still do today.
As I get older, I appreciate the comforts of your warm home, good food, and the boats more than ever. (No more tents). I am running out of wall space with the five trophy antelope, and the seven four-point mule deer.
I am looking forward to my first Montana bow and arrow elk hunt. Could we work out a prairie dog hunt at that time? Thanks so much for taking care of all the details.
Your old hunting buddy,
Larry L. Barrett
---
June 3, 2003
Dear Jim,
Thought I'd drop you a line and say "thanks for some great hunting experiences" over the past several years.
I've appreciated the opportunity of you and Brett guiding us on our elk, deer, and antelope hunts. Your professional style of guiding and how you get the hunters in on the game is amazing. I've always saw game plus a lot of beautiful country.
The deer I've gotten were great mounts but I'll never forget Brett calling in that 6x6 elk that now proudly hangs on my wall.
A lot can be said about the hunting and the animals, but I've really enjoyed the other aspects you incorporate into a hunt. The midday fishing trips on the river for trout, walleye, and those big northerns are a lot of fun. Also, I've always been pleased with our accommodations and the meals, which are some of the best I've had while hunting with outfitters.
Keep up the good work and that attitude of making every hunt a special time for each hunter.
See you in the fall,
John Wheeler